CURRICULAM VITAE OF THE C.E.O OF MEGATECH ENGINEERS :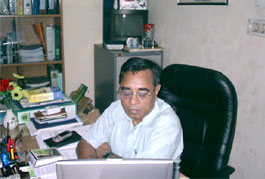 Md Shafiqur Rahman


Objective To attain perfection in my profession and to maintain professional ethics.

Experience 1995 – till date The Magatech Engineers Dhaka
Chief Executive Officer (Proprietor).
Establishment and organized a new Engineering Firm The Megatech Engineers.
Obtained Marketing right for GRUNDFOS pumps (Denmark) in Bangladesh.
Procurement of business and marinating Liaison with client.
Remaining vigilant regarding the quality of material being procured for different job. Which include both electrical and mechanical item, it can be mentioned here that all the materials that are imported from abroad by my company are being personally inspected in order to insure that quality of the job satisfy the client.
Field of activities include supply and installation of quality pumps and deep tube wells, firefighting equipments for high rise building and industries etc.

1992-1995 Milnars pumps Ltd. Dhaka
Operative director
Managing the company efficiently and professionally for production of quality pumps locally.
Handling projects for their execution as well as procurement of quality materials. Most mentionable are the different projects of Bangladesh Agriculture Development Corporation and Dhaka Water Supply and Sewage Authority. Particular filed was supply and installation of pumps.

1983-1992 Milnars pumps Ltd. Dhaka

General Manager (Factory)
Responsible for managing all administrative and technical matters of the factory for production of German Brand K.S.B Pumps under license in the factory.
To look in to the quality of the material that are being used for production of the pumps in order to maintain the quality of pumps according to DIN standards.
Responsible for personal overseas inspection of steel materials and equipments as and when required by the factory. In this regards I have had the privilege to go for inspection of material to places like Germany, UK, and Ireland, Japan. South Korea, Bangkok, Singapore etc.

1978-1983 K.S.B Pumps Company (Bd) Ltd. Dhaka

Deputy General manager (Factory)

Carried out almost the same responsibilities but with less authority.
My employer (Managing director) was an expatriate German and hence the final decision was always taken by him the as I was working directly under him.

1977-1978 Bangladesh Machine tools factory Dhaka

Deputy Chief Mechanical Engineers
Responsible for organizing, programming, planning, scheduling, and sequencing installation and commissioning of different types equipments in different production shops under direct supervision of ABR France experts.
Organizing the local manufacture of ROTOS pumps in Bangladesh.
Responsible for checking quality of imported machineries and equipment before their installation in different production shops.

1974-1977 Bangladesh Machine tools factory Dhaka

Mechanical Engineer

Preparation of machinery and equipment layouts in different production shops.
Visited Rotos pompes, Italy and stayed there for one year to look into the quality of different types of pumps and for training on production procedures in order to produce ROTOS brand pumps in Bangladesh.
Responsible for selection of type pumps to be produced locally.

1970-1974 Bangladesh Machine tools factory Dhaka
Assistant Mechanical Engineer

Studied leaflets, catalogues and specification of various types of machineries and equipment that was imported for Bangladesh Machine tools factory.
Preparation of Evaluation of different machineries as regards their quality, price, country of origin etc for facilitating decision by the higher authority.
Study of different product drawing to be produced in the factory.


Post Graduate 6 month Pakistan Ordnance factory, Wachcant , Rawalpindi, Pakistan

Training &study
On the job training on machining of different parts of machineries and equipment
To be acquainted with jigs, fixture, gauges and measuring equipment that are used to maintain the quality of products
To be acquainted with heat treatment processes of steel material

2 Month Pakistan Machine tools factory Wachcant, Rawalpindi, Pakistan

Training on production of various manufacturing processes of Machine tools.
12-Month Rotos Pompes, Milano, Italy

Study the drawings of various components of different type of pumps.
To acquire the knowledge of manufacturing processes.
To acquire the knowledge for selecting right type of materials for pumps .
To acquire the knowledge of inspiration of materials as well as testing quality of pumps in the test bad.

12 Days Management Development Center, Dhaka, Bangladesh.

To acquire theoretical knowledge for production, planning and control.

1 Month Institute Personal Management Dhaka, Bangladesh.

To acquire the knowledge and technique of managing the human resources.

2-Day Bangladesh Employers Association, Dhaka, Bangladesh.

Attended seminar regarding cost reduction and cost control
Deliberations were made by expatriate personalities .

16 -Days Management Development Center, Dhaka, Bangladesh

To acquire the knowledge of personal management and industrial relation.

Education 1965-1969: Bangladesh University of Engineering & Technology

B.Sc. Engineering (Mechanical)
Graduated with 1st Class.

1963-1965: Dhaka College, Dhaka, Bangladesh.

Higher Secondary Certificate (Science)
Graduated with 1st Division

1958-1963: Intermediate Technical Collage, Dhaka, Bangladesh.

Secondary school Certificate (Industrial Arts )
Graduated with 1st Division ,with 3rd position in order of Merit

Language Spoken Bengali, English, Urdu, Hindi, Italian.

Countries Visited: USA, Canada, Germany, UK, Ireland, Italy, Pakistan, India, South Korea, Taiwan, Japan, Singapore, Thailand, Hong Kong, Austria, Yugoslavia.


Interests: Watching Cricket, Music, traveling, knowing people of different language and culture.